Premature ejaculation (PE) is a common sexual concern for many men worldwide. There is a plethora of information, often conflicting and confusing, regarding its causes and potential remedies. One subject that frequently emerges in these discussions is the role of masturbation in premature ejaculation.
Let's delve into the medical aspects of PE, explore the connection between masturbation and premature ejaculation, and provide evidence-based answers to your questions. Additionally, we will address frequently asked questions related to this topic, ensuring that you are well-informed on this sensitive subject.
Understanding Premature Ejaculation
Premature ejaculation is a sexual dysfunction characterized by ejaculation occurring sooner than desired during sexual activity, often within one minute of penetration. This can lead to dissatisfaction, stress, and anxiety for both partners, impacting overall sexual well-being.
There are two main types of premature ejaculation:
Lifelong (primary) PE: Occurs from the first sexual encounter and persists throughout life.
Acquired (secondary) PE: Develops later in life after a history of normal sexual function.
The exact causes of PE are still not entirely understood. However, it is believed that a combination of psychological and biological factors contribute to the condition.
The Science of Masturbation
Masturbation is a normal and healthy sexual activity that involves stimulating one's own genitals for sexual pleasure. It is practiced by people of all genders and ages, and can have various benefits, including stress relief, improved sleep, and increased self-awareness.
Masturbation is often perceived negatively due to cultural and societal beliefs, leading to a range of misconceptions and myths surrounding its effects on health and well-being.
Can Masturbation Cause Premature Ejaculation?
Firstly, it is essential to understand what premature ejaculation is. PE is a condition where a man ejaculates too quickly during sexual activity, often before he or his partner is satisfied. It can cause significant distress and anxiety, affecting a man's self-esteem and his relationships.
Masturbation is a normal and healthy sexual activity. It can provide pleasure, relieve stress, and help men learn about their bodies. However, there is a belief among some men that excessive masturbation can cause premature ejaculation. According to research, there is no evidence to support this claim.
In fact, masturbation may actually help men last longer during sexual activity. A study published in the Journal of Sex Research found that men who masturbated before sexual activity had longer intercourse durations than those who did not. Masturbation can help men learn about their sexual response and become more aware of their body's sensations, which can improve their control over ejaculation.
However, it is important to note that excessive masturbation can lead to desensitization, which can make it more challenging to achieve an erection and orgasm during sexual activity. Men who masturbate excessively may also develop unrealistic expectations about sexual activity, which can lead to anxiety and performance pressure.
Masturbation habits that emphasize quick orgasms, such as "rapid-fire" techniques, may condition the body and mind to expect faster sexual gratification. Over time, this could potentially lead to ejaculatory control concerns during partnered sexual activity.
Types of sexual dysfunctions caused by excessive Masturbation
Erectile Dysfunction (ED)
Erectile dysfunction, also known as impotence, is the inability to achieve or maintain an erection during sexual activity. Excessive masturbation can lead to ED because it overstimulates the nervous system and desensitizes the penis. The constant pressure on the penis can lead to nerve damage and weaken the muscles responsible for erections.
Premature Ejaculation (PE)
Premature ejaculation is a sexual dysfunction where ejaculation occurs before or soon after penetration. This causes high distress in the individual and their partner as they are unable to control the ejaculatory process. This leads to dissatisfaction in the individual and the partner. The causes of premature ejaculation are overstimulation from excessive masturbation, leading to hypersensitivity and lack of control during sexual activity. The mental wellbeing of the individual will also be a contributing factor.
Delayed Ejaculation (DE)
Delayed ejaculation is a condition where ejaculation takes longer than desired or doesn't happen at all. This is often caused by overstimulation of the penis, leading to a desensitization of the nerves responsible for ejaculation.
Decreased Libido
Excessive masturbation can lead to a decrease in sexual desire or libido. This can happen because the constant release of dopamine during masturbation desensitizes the brain's reward system, leading to a decrease in natural sexual desire.
It's important to note that occasional masturbation is a normal and healthy part of sexual expression. However, when it becomes excessive and interferes with daily life, it can lead to sexual dysfunctions.
If you're experiencing any of these sexual dysfunctions, it's important to speak with a healthcare professional. They can provide you with the necessary support and treatment to help you overcome these concerns. Don't be afraid to seek help; sexual dysfunctions are common and treatable.
Masturbation Techniques and Premature Ejaculation
By altering masturbation techniques, individuals can develop healthier sexual habits and potentially improve ejaculatory control:
Slow down: Focus on the journey, not the destination. Gradually build arousal, rather than rushing towards orgasm.

Be mindful: Pay attention to sensations and thoughts during masturbation. This can help develop a better understanding of one's sexual responses.

Practice the start-stop technique: Masturbate until near the point of ejaculation, then stop and allow arousal to subside before resuming stimulation.
Tips for Healthy Masturbation Practices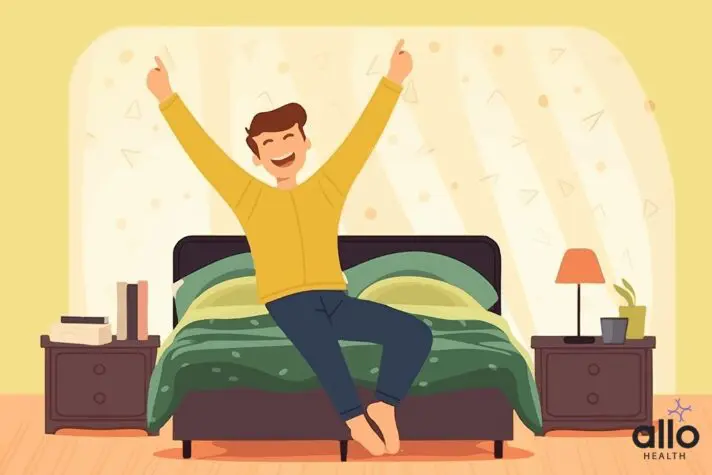 Incorporate these tips to ensure a healthy relationship with masturbation:
Explore Your Body
One of the most crucial aspects of healthy masturbation is getting to know your body and what feels good to you. Spend some time exploring your erogenous zones and experimenting with different techniques and positions to find what works best for you. This process of self-discovery can help you develop a better understanding of your sexual preferences and can lead to more satisfying sexual experiences.
Use Lubrication
Using a lubricant during masturbation can help reduce friction and discomfort, especially for women. Lubrication can also enhance the sensations and pleasure experienced during masturbation. However, be sure to choose a lubricant that is compatible with your body and sexual preferences. For example, water-based lubricants are a popular choice because they are safe to use with condoms and sex toys and are less likely to cause irritation.
Don't Overdo It
Masturbation can be a healthy and enjoyable part of your sexual repertoire, but it's important to avoid overdoing it. Masturbating too frequently or too aggressively can cause physical discomfort, such as soreness or chafing, and can lead to emotional distress, such as guilt or shame. Try to find a balance that works for you and your lifestyle, and don't be afraid to take breaks or switch up your routine if necessary.
Practice Safe Masturbation
Just like any other sexual activity, it's important to practice safe masturbation. This means using condoms or other barriers to prevent the transmission of sexually transmitted infections (STIs) and using clean hands or sex toys to reduce the risk of infection. It's also important to clean any sex toys or other equipment thoroughly after use to prevent the growth of bacteria or other harmful organisms.
Seek Help if Needed
While masturbation is a healthy and natural form of sexual expression, it's important to seek help if you're experiencing any concerns. If you're experiencing pain or discomfort during masturbation, it could be a sign of an underlying medical condition that requires treatment. Similarly, if you're struggling with feelings of guilt or shame related to your masturbation habits, speaking with a therapist or mental health professional can help you work through these feelings and develop a healthier relationship with your sexuality.
In conclusion, healthy masturbation practices are essential for maintaining a positive and fulfilling sexual experience. By exploring your body, using lubrication, avoiding overstimulation, practicing safe habits, and seeking help if needed, you can develop a healthy and enjoyable relationship with your sexuality that can benefit you both physically and emotionally.
Treatment Options for Premature Ejaculation
If you suspect that your masturbation habits are contributing to premature ejaculation or if you are experiencing distress due to PE, consider seeking professional help. There are several treatment options available, including:
Behavioral therapy: Behavioral techniques are the first line of treatment for premature ejaculation. They involve a range of exercises and techniques that help a man learn to control his ejaculation. These techniques include the start-stop technique, the squeeze method, and the pause-squeeze technique. They involve pausing or squeezing the penis when a man feels close to ejaculation, allowing him to control the timing of his ejaculation.

Counseling or sex therapy: Counseling is another effective therapy for premature ejaculation. It involves talking to a therapist or counselor about the concern and learning coping strategies to manage stress and anxiety. Counseling can also help men and their partners improve communication and intimacy, which can help reduce anxiety and improve sexual function.

Medication: Several medications are available to help treat premature ejaculation. The most common medications are selective serotonin reuptake inhibitors (SSRIs), which are antidepressants that can also help delay ejaculation. They work by increasing the levels of serotonin in the brain, which helps to delay ejaculation. Examples of SSRIs include dapoxetine, fluoxetine, and paroxetine. Other medications include topical anesthetics (numbing sprays) such as lidocaine and prilocaine, which can be applied to the penis to numb it and delay ejaculation.

Pelvic Floor Exercises: Pelvic floor exercises involve strengthening the muscles that support the bladder, bowel, and penis. They can help improve ejaculatory control and reduce premature ejaculation. Examples of pelvic floor exercises include Kegels and reverse Kegels. 

Sexual Therapy: Sexual therapy involves working with a therapist to improve sexual function and satisfaction. It can help men and their partners (couples therapy) learn techniques to improve sexual performance and overcome performance anxiety. Sexual therapy can also help improve communication and intimacy, which can improve sexual function

Alternative therapies: Some men find relief through practices like yoga, meditation, and acupuncture.
Always consult with a healthcare professional before starting any treatment plan.
Frequently Asked Questions (FAQs)
Q1: Is masturbation harmful to my health?
A: No, masturbation is a normal and healthy sexual activity. It is not harmful to your health unless it becomes excessive or compulsive, causing interference with daily life or physical discomfort.
Q2: How often should I masturbate?
A: There is no specific recommended frequency for masturbation, as it varies from person to person. It is essential to maintain a balance between self-pleasure and other aspects of life, including work, relationships, and personal well-being.
Q3: Can I masturbate too much?
A: Yes, excessive masturbation can lead to physical discomfort, such as chafing, and interfere with daily life. If you find that your masturbation habits are causing distress or negatively impacting other areas of your life, consider seeking help from a healthcare professional.
Q4: Can premature ejaculation be cured?
A: While there is no definitive "cure" for premature ejaculation, it can be effectively managed and treated using various therapies and techniques. By addressing the underlying causes of PE and implementing healthy sexual habits, many men experience significant improvements in ejaculatory control.
Q5: Can I still have a satisfying sex life if I experience premature ejaculation?
A: Absolutely. Premature ejaculation doesn't have to define your sex life. Open communication with your partner, exploring alternative forms of sexual pleasure, and seeking professional help can all contribute to a fulfilling sex life despite PE.
Conclusion
The relationship between masturbation and premature ejaculation is complex and multifaceted. While there is no direct causal link between the two, certain masturbation habits can contribute to the development or exacerbation of PE. By adopting healthy masturbation practices and seeking professional help when needed, individuals can enjoy a satisfying and well-rounded sex life.
Sexual health is as important as physical and mental health. In most cases, one consultation can go a long way. Personalised, discreet, and judgement-free treatment at your fingertips –
book an online consultation
with one of Allo's leading experts.