Sex and Dementia: Navigating Intimacy and Relationships
USSexual Health
Introduction
Dementia is a condition that affects millions of people worldwide and is attributed to many conditions that many are unaware of. While conditions such as Alzhemier's disease are well known, did you know about mixed dementia? What about Vascular dementia?
With dementia affecting many, it's important that families be educated on dementia care. This condition not only affects the individual diagnosed with dementia but also can deeply affect their caregivers.
As the disease progresses, individuals with dementia often experience changes in their behavior, personality, and abilities, which can impact their relationships and intimate lives.
Impact of Dementia on Intimacy
There are many medical hallmarks of the condition – some being the expected, such as memory loss, and behavioral and personality changes. However, people often forger that intimacy is a huge part of an individuals' life. It's often also forgotten that in the progression of dementia, sexual behaviour is most likely affected – this is due to the fact that a lot of one's personality and understanding of the world is based on the links made in your brain.


Have we lost you? 
Don't worry, we'll explain the biology of it a bit later.
Examine your sexual health with a 2 minute self-assessment.
87%
people received expert guidance for their concerns.


The impact of dementia on intimacy can vary depending on the stage of the disease, the individual's personality and preferences, and the dynamics of their relationships.
In the early stages of dementia, individuals may experience a decreased interest in sex or have difficulty initiating and maintaining sexual relationships. This may be due to changes in their cognitive abilities or the fear of losing control over their behavior. In some cases, individuals with dementia may also experience changes in their sexual orientation or preferences, making it difficult to navigate intimate relationships.
As dementia progresses, individuals may experience more significant changes in their behavior and personality, which can impact their sexual needs and desires. For example, some individuals may become more withdrawn or less interested in socializing, while others may become more aggressive or impulsive. These changes can make it difficult for caregivers and loved ones to know how to best support their loved ones' sexual needs.
Types Of Dementia – The Science Of It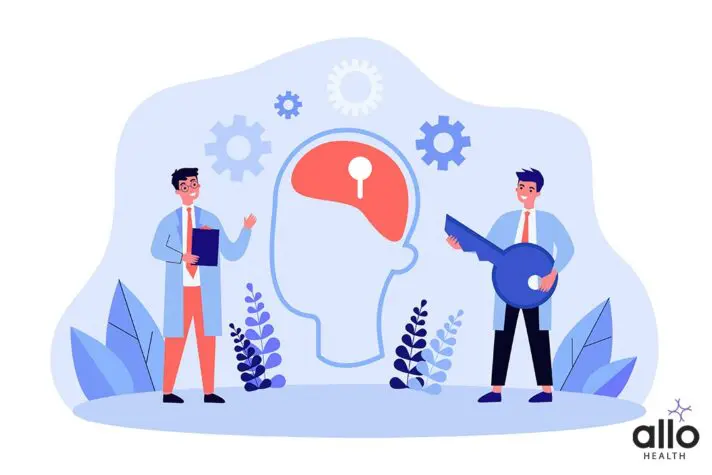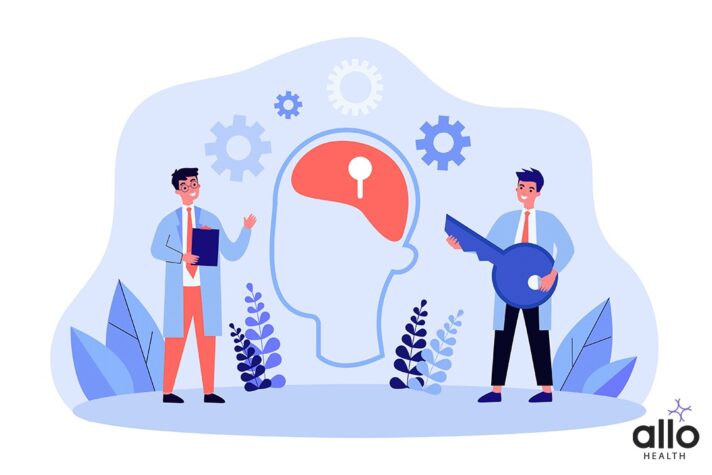 Like we said, there's quite a lot that's out there. But let's keep in mind, that education and understanding the different medical conditions is a knowledge asset. It can help in early diagnosing and effective care. Please understand that each of these conditions are strictly diagnosed by medical professionals. Should you feel you've been experiencing memory loss or any other neurological/physical symptom, we encourage you to consult with a doctor or health care professional.
Alzheimer's disease: It is the most common type of dementia that affects memory, thinking, and behavior. It accounts for about 60 to 80% of all cases of dementia.

Advertisements

Have questions?

Ask Allo SexpertAI

24x7 AI backed chatbot for all your sexual health related queries

Vascular dementia: It occurs when there is damage to the blood vessels in the brain, leading to cognitive impairment.

Lewy body dementia: It is a type of dementia that is caused by the abnormal buildup of proteins in the brain. It is characterized by fluctuations in cognition, visual hallucinations, and parkinsonism.

Frontotemporal dementia: It is a group of disorders that affect the frontal and temporal lobes of the brain, leading to changes in behavior, personality, and language.

Mixed dementia: It occurs when a person has more than one type of dementia, such as Alzheimer's disease and vascular dementia.

Creutzfeldt-Jakob disease: It is a rare type of dementia that is caused by an abnormal protein called prion. It leads to rapidly progressive dementia, muscle stiffness, and other neurological symptoms.

Huntington's disease: It is a genetic disorder that causes progressive degeneration of brain cells, leading to cognitive and motor symptoms.

Parkinson's disease dementia: It is a type of dementia that affects people with Parkinson's disease. It is characterized by cognitive decline, visual hallucinations, and movement concerns.
How is Dementia Diagnosed?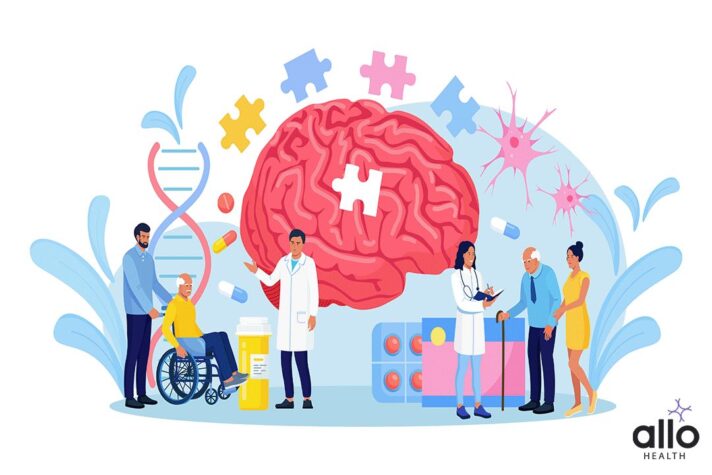 Dementia is typically diagnosed through a combination of medical assessments, cognitive evaluations, and laboratory tests. Here are some common steps and assessments involved in the diagnosis of dementia:
Medical History: The doctor will ask the patient and their family members about the patient's medical history, including any past illnesses, injuries, or surgeries.

Physical Exam: The doctor will perform a physical exam to check for any underlying medical conditions that may be causing the symptoms.

Cognitive Evaluation: The doctor may perform a series of tests to evaluate the patient's cognitive function, including memory, attention, language, and problem-solving abilities.

Neurological Exam: The doctor may perform a neurological exam to assess the patient's reflexes, coordination, and balance.

Imaging Tests: The doctor may order imaging tests such as a CT or MRI scan to look for signs of brain damage or other abnormalities.

Laboratory Tests: The doctor may order blood tests to check for underlying medical conditions such as thyroid concerns or vitamin deficiencies that could be causing the symptoms.

Psychiatric Assessment: The doctor may refer the patient to a mental health specialist for a psychiatric assessment to rule out other conditions such as depression or anxiety.
Sexual Dysfunctions Caused By Dementia
Loss of libido: Dementia can lead to a decreased interest in sexual activity due to changes in mood, cognition, and behavior.

Erectile dysfunction: Dementia can cause physical changes that may affect the ability to achieve and maintain an erection.

Vaginal dryness: Dementia can cause a decrease in estrogen levels in women, leading to vaginal dryness and signs of discomfort during sexual activity.

Inappropriate sexual behavior: Some individuals with dementia may exhibit inappropriate sexual behaviour, such as public masturbation or sexual advances towards family members or caregivers.

Difficulty with sexual expression: Dementia can impact communication skills, making it difficult for individuals to express their sexual needs or desires.

Sexual aggression: In rare cases, dementia can lead to sexual aggression, which may include non-consensual sexual behaviour.
Supporting Sexual Needs in Dementia Care
As caregivers, it's essential to support our loved ones' sexual needs and desires, even as their cognitive abilities decline. Here are some tips for navigating sexual intimacy and relationships in dementia care:
Normalize Sexual Desire and Behavior: It's essential to understand that sexual desire and behavior are normal parts of being human, and dementia does not change that. Even as cognitive abilities decline, individuals with dementia may still experience sexual desire, and it's important to respect and support their needs.

Communicate Openly: Communication is key in any relationship, and this is especially true when it comes to sexual or physical intimacy and dementia. Talk openly with your loved one about their sexual needs and preferences, and be prepared to listen and respond with empathy and understanding.

Adapt to Changing Needs: As dementia progresses, individuals may experience changes in their sexual needs and desires. Adapting is a huge part of the process – adapt to these changes and be flexible in your approach to intimacy and relationships.

Consider Medical Support: In some cases, individuals with dementia may experience physical concerns that impact their sexual health, such as erectile dysfunction or vaginal dryness. Consult with a healthcare provider to explore options for medical support and treatment.

Maintain Privacy and Dignity: Respect your loved one's privacy and dignity when it comes to intimacy and relationships. This may involve creating a private space for intimate moments, using adaptive clothing or equipment, or finding ways to maintain independence and autonomy.

Seek Support: Caregiving can be a challenging and isolating experience, especially when it comes to sensitive topics like sex and dementia. Seek support from healthcare providers, support groups, or online communities to connect with others who understand what you're going through.
Types Of Dementia Treatment
There are different types of dementia, and the treatment for each type may vary. In general, dementia treatment aims to manage the symptoms and slow down the progression of the disease. Here are some common types of dementia treatment:
Medications: There are medications that can help improve symptoms, such as memory loss and confusion, in people with dementia. These include cholinesterase inhibitors (e.g. donepezil, rivastigmine, and galantamine) and memantine.

Lifestyle changes: A healthy lifestyle can help slow down the progression of dementia. This includes regular exercise, a balanced diet, and getting enough sleep. Socializing and participating in activities can also help improve cognitive function and reduce symptoms.

Therapy: Therapy can help people with dementia and their families cope with the emotional and psychological impact of the disease. This may include cognitive behavioral therapy, occupational therapy, and speech therapy.

Support groups: Support groups can provide emotional support and practical advice for people with dementia and their families. They can also help reduce isolation and improve quality of life.

Alternative therapies: There are some alternative therapies that may help with dementia symptoms, such as music therapy, art therapy, and aromatherapy. However, these therapies are not proven to be effective for everyone and should be used with caution.
Maintaining Healthy Relationships in Dementia Care
In addition to supporting your loved one's sexual needs, it's important to maintain healthy relationships in dementia care. Here are some tips for navigating relationships as dementia progresses:
Focus on the Present: Dementia can make it difficult for individuals to remember the past or plan for the future. Focus on the present moment, and find ways to connect with your loved one in the here and now. This may involve reminiscing about shared experiences or finding new activities to enjoy together.

Practice Patience and Empathy: Dementia can cause changes in behavior and personality, which may be frustrating or difficult to understand. Practice patience and empathy with your loved one, and try to see things from their perspective.

Find Joy in Small Moments: Even as dementia progresses, there can still be moments of joy and connection. Find joy in small moments, whether it's sharing a favorite food or listening to music together.

Take Care of Yourself: Caregiving can be a demanding and exhausting experience, and it's important to take care of yourself as well as your loved one. This may involve seeking respite care, finding ways to reduce stress, or taking time for self-care activities.

Seek Professional Help: In some cases, navigating relationships in dementia care may require professional help. Consider consulting with a therapist, social worker, or other healthcare professional to explore options for support.
Complications With Untreated Dementia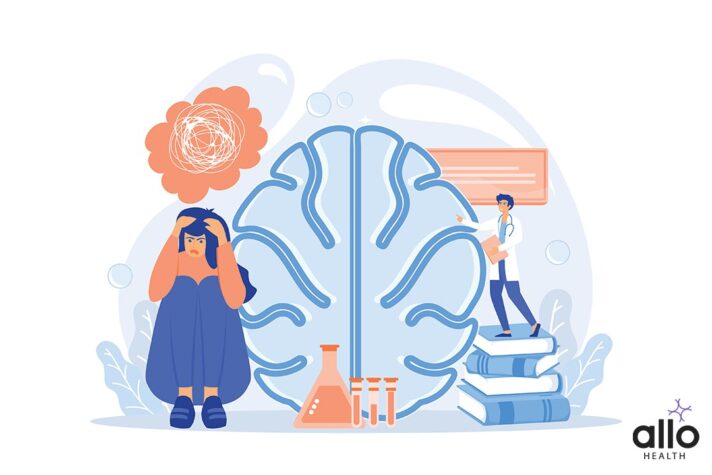 Worsening Cognitive Decline: Dementia is a progressive disease, meaning that it typically worsens over time. Without treatment, cognitive decline can accelerate, making it increasingly difficult for the person to perform daily tasks and communicate with others.

Increased Risk of Falls: As dementia progresses, the person may experience balance concerns and difficulty walking, increasing the risk of falls and injuries.

Malnutrition and Dehydration: Dementia can make it challenging for individuals to remember to eat and drink enough fluids, leading to malnutrition and dehydration.

Wandering and Getting Lost: Dementia can cause disorientation and confusion, making it easy for individuals to wander and get lost, which can be dangerous.

Agitation and Aggression: People with dementia may experience mood changes, including increased agitation and aggression, which can be challenging for caregivers to manage.

Increased Risk of Infections: People with dementia may have difficulty maintaining proper hygiene, increasing their risk of infections such as urinary tract infections and pneumonia.

Caregiver Stress and Burnout: Caring for a loved one with dementia can be emotionally and physically draining, leading to stress and burnout for the caregiver.
Medications Given to Those With Sexual Health Conditions And Dementia
When it comes to medications for sexual health conditions and dementia, it is important to note that treatment plans will vary depending on the specific condition, age, medical history, and overall health of the patient. It is also important to involve healthcare professionals, such as a primary care physician or geriatrician, in the decision-making process to ensure safe and effective treatment.
For sexual health conditions, such as erectile dysfunction or low libido, medications such as sildenafil (Viagra), tadalafil (Cialis), or vardenafil (Levitra) may be prescribed. However, these medications may interact with other medications the patient is taking, so it is important to consult with a healthcare professional before taking them.
For dementia, there are a variety of medications available to help manage symptoms such as memory loss, confusion, and agitation. These include cholinesterase inhibitors, such as donepezil (Aricept), rivastigmine (Exelon), and galantamine (Razadyne), as well as memantine (Namenda), which is an NMDA receptor antagonist. Again, it is important to work with a healthcare professional to determine the best course of treatment for the individual.
Just Some Things You May Not Know
Why Are People With Dementia Prone To Risky Or Inappropriate Behaviour?
Dementia is a condition that affects the brain's ability to function properly, and it can lead to a range of cognitive and behavioral symptoms. One of the behavioral symptoms that people with dementia may experience is risky or inappropriate behavior.
There are several reasons why people with dementia may be more prone to risky or inappropriate behavior. Some of these include:
Impaired judgment: Dementia can affect a person's ability to make sound judgments and decisions. They may not fully understand the risks associated with certain behaviors or may struggle to weigh the potential consequences.

Loss of inhibitions: As dementia progresses, some people may experience a loss of inhibitions. They may become more impulsive and act on their immediate desires without considering the consequences.

Memory loss: People with dementia may struggle to remember important information, such as the names of family members or their own address. This can lead to confusion and disorientation, which may increase the risk of engaging in risky or inappropriate behavior.

Changes in personality: Dementia can also cause changes in a person's personality, making them more irritable, aggressive, or agitated. They may act out in ways that are unexpected or inappropriate.

Sensory changes: Dementia can also affect a person's perception of the world around them. They may misinterpret social cues, feel overwhelmed by sensory stimuli, or struggle to communicate their needs effectively, which can lead to frustration and risky behavior.
How To Take Care Of Dementia Caregivers?
Taking care of dementia caregivers is important, as they often face a high level of stress and burnout from caring for their loved ones. Here are some tips on how to take care of dementia caregivers:
Offer emotional support: Caregivers of people with dementia often feel isolated and overwhelmed. Make sure to provide emotional support by listening to their concerns and offering empathy and encouragement.

Provide respite care: Respite care provides a break for caregivers from their caregiving duties. Offer to help with caregiving tasks, so the caregiver can have some time off to recharge.

Provide information and resources: Caregivers often need information and resources to help them care for their loved one. Provide them with resources such as books, websites, and support groups.

Encourage self-care: Encourage caregivers to take care of their own physical and emotional needs. Encourage them to exercise, eat healthy, get enough sleep, and take breaks when needed.

Offer practical support: Caregivers may need help with practical tasks such as grocery shopping, transportation, or cleaning. Offer to help with these tasks, so the caregiver can focus on their loved one.

Educate others: Educate others about dementia and the challenges caregivers face. This can help create a supportive environment for the caregiver and reduce the stigma surrounding dementia.
Conclusion
Sex and dementia is a complex and often sensitive topic, but it's essential to support our loved ones' sexual needs and maintain healthy relationships as the disease progresses. By normalizing sexual desire and behavior, communicating openly, adapting to changing needs, and seeking support, we can help our loved ones maintain their dignity and autonomy. Additionally, by focusing on the present, practicing patience and empathy, finding joy in small moments, taking care of ourselves, and seeking professional help when needed, we can navigate the challenges of dementia care with compassion and grace.
Sexual health is as important as physical and mental health. In most cases, one consultation can go a long way. Personalised, discreet, and judgement-free treatment at your fingertips –
book an online consultation
with one of Allo's leading experts.