Premature Ejaculation is a treatable condition – however, it isn't widely known that there are many treatment options available for the sexual dysfunction. The primary symptom of PE includes the inability to delay ejaculation – most commonly those with PE either ejaculate before penetration or last less than 2 minutes before orgasming or ejaculating. The goal of premature ejaculation treatment is to help the individual understand their diagnosis and concern and learn how their treatment will help them.
The variety of treatments for premature ejaculation include:
Medicative intervention or drug treatments
Psychological counselling: individual therapy, therapy for couples
Ejaculatory control exercises
Pelvic Floor Rehabilitation trough practical applications of pelvic floor exercises
Behavioral therapy techniques
Squeeze Technique or Pause-Squeeze Technique
Simulate (through masturbation or sexual intercourse) the penis until the urge to orgasm occurs
Squeeze (or ask your partner to) the penis head until the erection diminishes.

Start the stimulation again.

Repeat this process about 3-4 times before orgasming or ejaculating.
The applied pressure you use depends on you and/or your partner(s). Doing this with your partner(s) will help improve confidence, individual and partner satisfaction, and reduce sexual anxiety.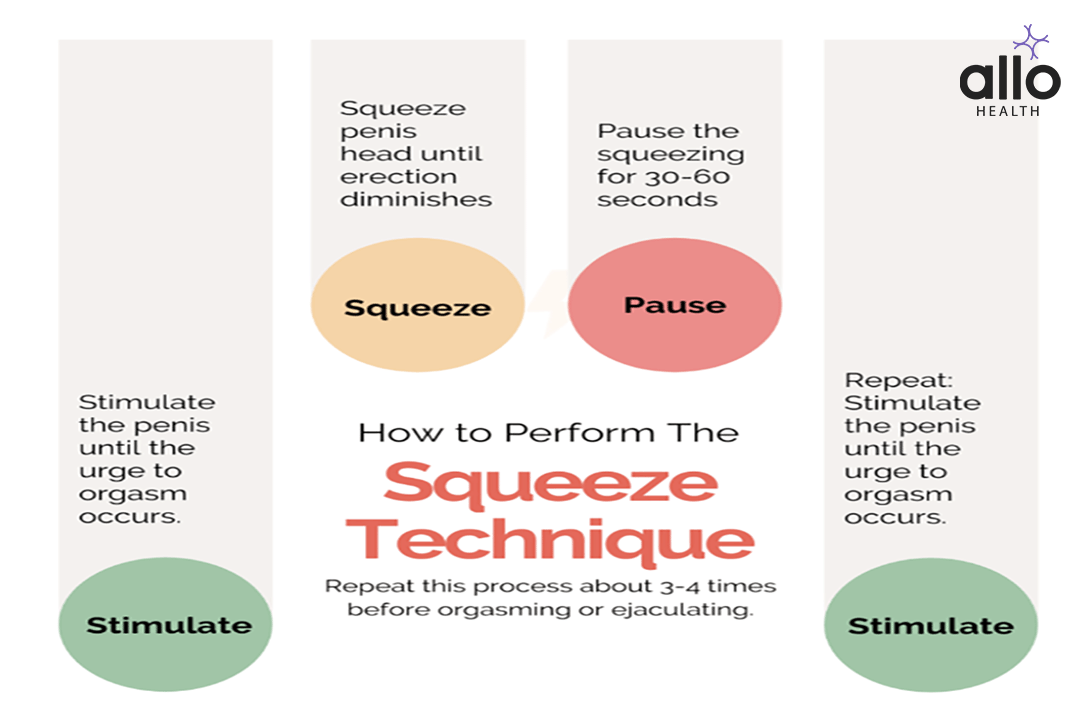 Most commonly, pelvic floor muscle rehabilitation can include exercises such as the squeeze technique. They can help improve the duration when wanting to achieve treatment goals.

The Squeeze method, a type of behavioral techniques (and effective) is commonly implemented alongside (combined treatment) pharmacological treatment or medical management such as Phosphodiesterase-5 inhibitors (PDE-5) or selective serotonin re-uptake inhibitors (SSRIs) anaesthetic creams (numbing creams or topical creams), and/or analgesic effects. All treatments help in gaining better ejaculation control.

During sexual activity, you shouldn't keep a time goal or time limit in mind. Behavioural-based treatment alongside exercises such as this will help in pelvic floor muscles rehabilitation and in understanding levels of stimulation. Performance anxiety is common is those that experience PE symptoms, and exercises such as these will help you gain confidence in the bedroom.

Ejaculatory Dysfunction is common, and while it may seem daunting to explore your sexual pleasures, we encourage you to be open-minded and seek the right help.

Premature Ejaculation exercises are based on the cause behind your symptoms, an holistic evaluation is imperative.
Screening Call with our in-house expert
Understand your concerns better, talk to sexual health expert directly.
Sexual health is as important as physical and mental health. In most cases, one consultation can go a long way. Personalised, discreet, and judgement-free treatment at your fingertips –
book an online consultation
with one of Allo's leading experts.